2018
St

Martins Centre
SY11 3AG
Charity No. 1088872
CHRISTMAS FROST FAYRE
Sat 2nd December 2017 from 9am until 5pm
Traders from 7am
£30 a Table [only 2 tables left]

...


Contact Lesley-Ann on 01691776438 or 01691770204



2015
WHAT A DAY!
It was wet to say the least. The guys who put up the Christmas Tree that morning were soaked through but they work through it till it was done. Ash Allum, John Smout and several others, you're all super stars, THANKS.
Nev Peate, Ashly Allum and The Keys donated the tree this year and Ashly Allum, Marvin Bathas and Simon Burgess donated some more lights, our THANKS them as well.
At 4:25 I was thinking to myself that it was going to a quick thank you switch on the... lights and go home but at 4:30 brave, lovely people started to appear and around 90 folk braved the weather, my THANKS goes to each one of them.
5 members of the Ifton Colliery Band came after playing for 4 hours in Shrewsbury that morning, and they led us in singing 3 carols and ended with We Wish You A Merry Christmas.
Young Maddie Owen pushed the plunger to light up the tree and a great cheerer when up as the white and blue lights glowed in the dark.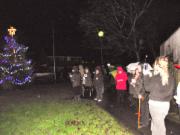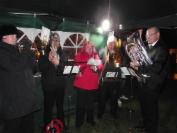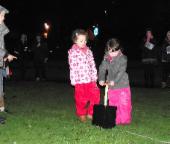 .......................................................................................
2014
Thanks to all who came to help switch on the
Christmas Tree Lights at St Martins Memorial Garden
on Saturday, our thanks go to Neviel and Ben Peate for donating the tree, transporting it and erecting it, R&D Ground Works for digging the hole and putting in the facilities for the tree and Ashley Allum for the electric works and for having the idea in the first place, WELL DONE CHAPS.
Della Cullis did a grand job of throwing the switch, Della was one of the Year 6 class at St Martins School who wanted to do the deed. Della's name was put in a hat and drawn out.
One person did a quick head count of about 200 people and all joining in singing a couple of carols and calling the grand count down.
This has never been seen in the history of St Martins before.
THIS IS REAL COMMUNITY SPIRT.
MERRY CHRISTMAS EVERYONE AND A HAPPY NEW YEAR