Trolley Dash at Stan's Superstore
"are you ready"

St Martins Centre Spring Draw 1st Prize winner was Freda Parry of Gobowen.
Freda had 90 seconds to dash around Stan's Superstore to grab as many items as she could. Her total grab was £198. Thank you Stan's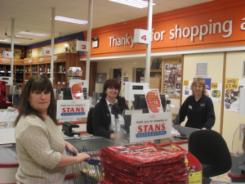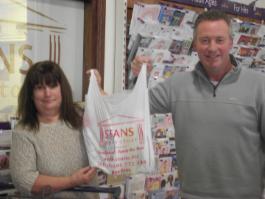 St Martins Centre Spring Draw – Winners

1st - Supermarket Dash - F Parry
2nd - Helicopter Trip - H Gilmore 3rd - Meal for 2 The Keys - S Williams
4th - MOT & Service Ellesmere - Mr S Heathcock
5th - Bottle of Brandy - F Parry
6th - Hamper - V Penrose
7th - Bottle of Wine - S Williams
8th - Bottle of Wine - A Allum
9th - Handwash Gift Set - Mrs Hoosan
10th - Photo Albums - Margaret and Dave


IT into Work -Employability Skills
This is a new venture at St Martins Centre, supported by Big Local, aimed at those out of work at present and those who want to refresh or upgrade or learn computer skills. There are 4 sessions booked with opportunity to use the computers here at the centre at other times
Starting Monday MAY 20th continuing JUNE 3rd & 17th, JULY 1st
Job searches online, C.V's, Job application online and via emails, universal job searches, ECDL.
All sessions are FREE, and could save you the trip into Oswestry. Just come along between 12 noon and 2pm. If one to one sessions are booked there is the opportunity to have a coffee and a chat with other people, sharing your experience and possible job opportunities. What do you have to Lose!
Big Night Out - 60's 70's 80's night

A brilliant night out, despite the weather 32 people came and had a great time.

Earlier in the day a working party came together and cleared the path up to the Centre. Can I make a special mention about Alan Ellis who came along with his digger and cleared the driveway up to the Centre for us, many thanks Alan.

We had a wellie park for all those who walked through the snow to get there and received a warm welcome. The barrel of Ale soon went (we'll need to get 2 barrels next time) and the curry was just right, some went for second and thirds, yes that good!

The band, Revival, played things like Apache, I can walk 500 miles and Wild Thing to mention but three of their songs and most people were on the dance floor most of the time having a whale of a time. Many people were asking 'when is the next one' well watch this space for news.

The Spring (ha ha) Draw was held but only one winner was in the room. I'll post the list of winners here soon.

<<<<<<<<<<<<<<<<<<<<<<<<<<<<<<<<<<<<<<<<
Table Top Sale
The Trustees of the St Martins Centre would like to thank all the Seller and Buyer that came to the sale. It was an extremely successful morning, there were lots of books, some jewellery,CD's, Cloths, pictures and a whole lot more. Many people stopped and enjoyed a 'cupper' and a chat with friends and David Boyce was on hand to bring people up to date on the Big Local community consultation.
There will be another Table Top Sale in November, keep your eye on this page for news of that.
..........................................................................................................
Did you go to Ridgway Rentals Open Day - Here are some Images from a very Successful Day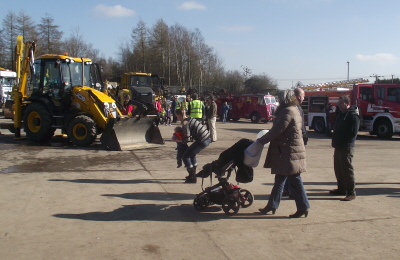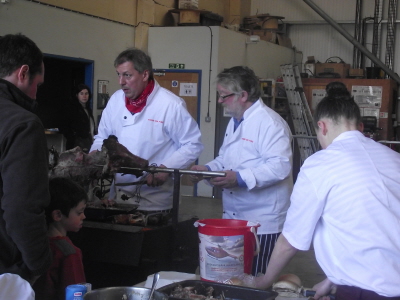 Great Jobs Available............................
West Mercia Police Rolls Out Force-Wide Cadet Programme
If you're aged between 16 and 17, have an interest in policing and want to make a difference in the community where you live, then West Mercia Police needs you.
The force is looking for teenagers who have just left Year 11 to join its volunteer cadet scheme.
West Mercia Police Cadets are looking for recruits from across Herefordshire, Shropshire, and Worcestershire, in addition to Telford & Wrekin, where the scheme has been running for a number of years.
As a cadet, you will undertake a variety of activities, including self-defence training, marching, fitness, team working, role playing and taking part in team building weekends and Outward Bounds events.
Cadets will also gain an insight into police life, through talks by guest speakers from different departments and agencies and by taking part in local community policing events
"We are delighted that we are now able to offer this exciting opportunity to teens across the whole of the force area," says Sergeant Alex Warner who is in charge of setting up the scheme for the force. He adds: "Being a cadet is about discipline, friendship, teamwork and gives you the satisfaction of knowing that you are making a difference to your community and developing yourself for any future career.
"West Mercia Police Cadets is the perfect opportunity to meet new people, make friends, improve your life skills and volunteer in your community. Activities will include supporting the police at public events, delivering crime prevention advice, visiting vulnerable and elderly care homes, assisting the public at community events and mystery shopper activities to kerb the underage sale of alcohol, knives, fireworks and cigarettes.
"You will also have the opportunity to gain a BTEC Diploma in Public Service Skills, which is a a practically based qualification that you will attain through your activities in the cadets. You will gain a lot from being in the cadets, aside from experience, and being able to put it on your CV will make you stand out to any employer.
"We are looking to sign up 14 new cadets for each policing area to start in September and I would urge anyone who is interested to visit the force's website for more details."
2012 Cadet of the year , Kate Theodore, says that being a police cadet has given her a 'great sense of achievement'. Writing in her blog, she says: "I have no doubt that I have developed as an individual since joining the police cadets. The scheme aims to encourage you to step outside your comfort zone, build your confidence, and find hidden qualities that you didn't know you had. That's exactly what it's done for me.
"I genuinely enjoy every minute I spend with the people I work with at the cadets and also being in uniform out in public with the attached responsibilities.
"Currently, being the leader of my squad has allowed me to gain new skills that I will needthroughout my life. Knowing I am making a difference and helping others gives me a great sense of achievement.
"Although many cadets will go on to join the police service, others have gone onto completely different careers taking the many skills they have learned with them.
"I have no doubt that the skills gained with the cadets will only go on to benefit each and every graduate in the future - I can testify to that personally."
Applicants are required to fill in an initial application form, attend a formal interview and take part of the Police Initial Recruitment Test. Successful applicants will meet every Thursday at the following locations:
Herefordshire - Hereford Academy
North Worcestershire - Kingsley School, Redditch
Shropshire - Shrewsbury Police Station
South Worcestershire - Worcester (final venue TBC)
Telford & Wrekin - Malinsgate Police Station, Telford
For more information or to download an application form, visit: http://www.westmercia.police.uk/policecadets/
Community Room Refurbishment.
The St Martins Methodist Community Room is attached to the Chapel. It is home to the St Martins Rainbows, Brownies and Guides and the Eagles Fellowship and the regular Thursday Coffee Morning. The refurbishment project consisted of up grading the toilet facility so that it can accommodate wheelchair users, babies and toddlers.
This up grading has been financed by the Lottery fund "Awards for All" and supported by volunteers.
Nick Heard, the Chapel property steward said "This makes a fantastic improvement to our community resource. We are grateful to the lottery; they were really helpful and understanding of our problem. The picture shows Rev Heather Wilson and Enid Pritchard, the Chapel Treasurer attaching the sign acknowledging the input from the Lottery.